At main menu click on Settings tab
Settings menu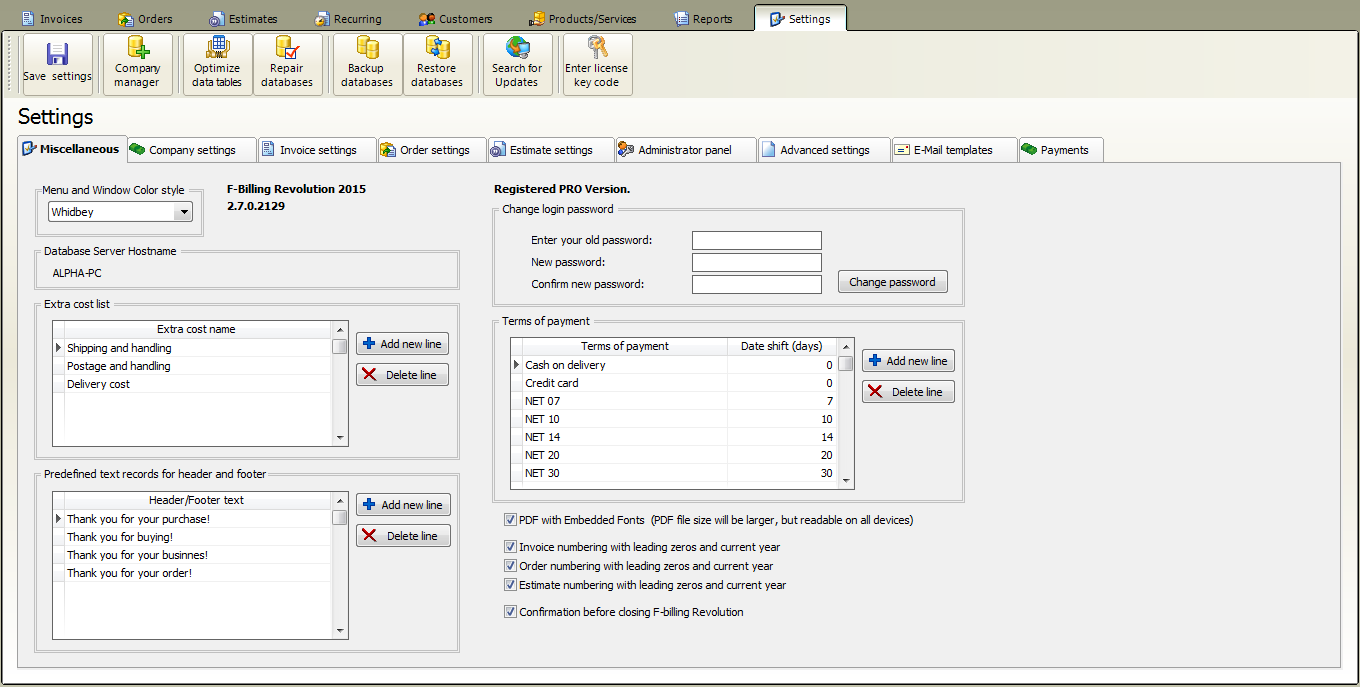 Company Manager: You can create unlimited company profiles. Each company profile comes with separated customers, products, invoices, orders, estimates, users and settings. This is useful if you have multiple companies or if you need to create invoices in multiple currencies. P.E (one company profile for USD invoices, and another for EUR invoices etc.)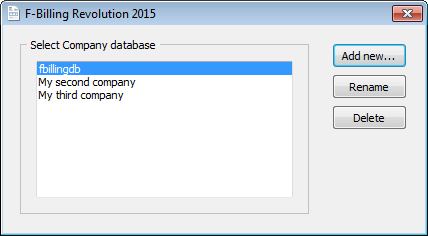 "fbillingdb" is the default database. You can create unlimited additional database

Optimize databases: this function will compress and re-index your database for faster access. If you have a lot (thousands) of data records, optimizing your database tables regularly will improve f-billing performance.

Repair databases: We recommend to use this function after a power failure or Windows crash occurs. It will do garbage collection and re-index the database. Our database system is highly resistant to corruption. If an application crash, or a Windows operating-system crash, or even a power failure occurs in the middle of a transaction, the partially written transaction should be automatically rolled back the next time the database file is accessed.

Backup databases:

This will open the backup window

1. Browse a folder for your backup files
2. Click on backup now button to create a database backup from your current company profile

Automatic backup on exit program: We strongly recommend to make it checked and f-billing will automatically create database backup file to the backup folder when you close the billing application. The backup progress is very fast it takes only 1-2 seconds.

Restore databases: You can restore a previous f-billing backup file for the current company profile. The existing databases in the current company profile will be overwritten! Just browse for your backup file after click on Open button

Search for updates: Click on this button to check for new updates. If there are any updates to install, f-billing will automatically download
and install the update.

Enter license key code: Find the license key in your email that you have received after purchasing the SOLO or PRO version.
Fill in the text boxes with name and license key. Click "OK" and you will successfully upgrade to the full version.