Click on the Email Invoice toolbar button


This will open the Invoice E-mail button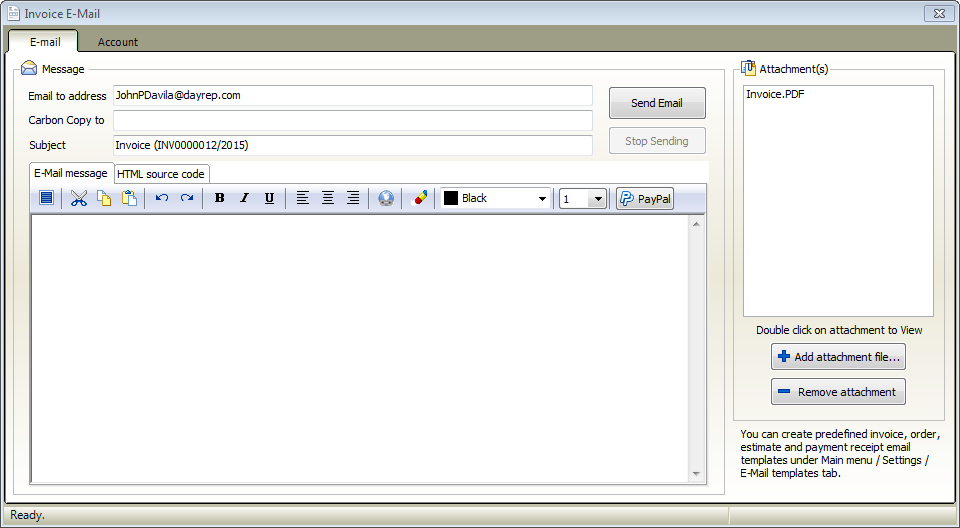 The first thing you'll need to do is: set up your email account. Without this you cannot send email messages.

The current invoice will be automatically attached to the email message.
You can attach other files to the message just click on "Add attachment file..." button.

Make sure the "Email to address" field contains a valid email address

Email message body: enter the message body text here You can create predefined invoice email template under the "Settings" menu tab. The email message body will be automatically filled with the template text. Placeholders in the template text will be automatically replaced with the current invoice values.

When you've finished editing the fields, click on "Send email" button to send the message.

---
(optional) You can attach PayPal payment link to your invoice email, Just click on PayPal toolbar button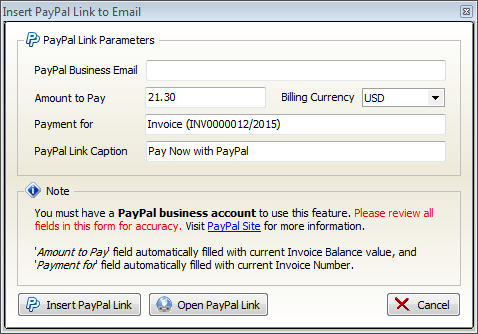 PayPal business account: your PayPal business account email address goes here.
You must have a PayPal business account to use this feature.

Amount to Pay: You can enter amount to pay to this field. By default this field will be automatically filled with the current invoice balance.

Billing currency: Select your currency from the list. (PayPal accepts only the listed currencies)
Click on Open PayPal link to test your payment link

Click on Insert PayPal link to place the PayPal payment link into the email message.
Your customer can pay for your invoice by clicking on the PayPal link.
Also you can insert PayPal payment button into invoice to get paid faster.